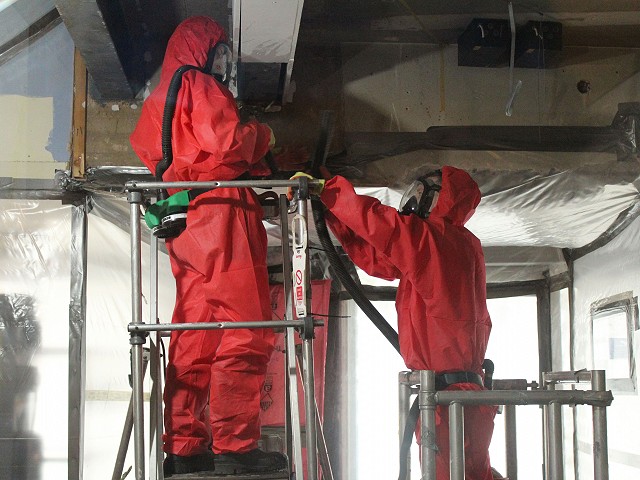 We recently carried out asbestos removal works in the old WHSmith Building in Birmingham City Centre, with asbestos being present on various floors within the building works continued for a few weeks.
It was a large multi-storey building that once housed various retail shops, and our client approached us to remove asbestos materials before they continued on to re-develop the whole building.
During the site visit, they were working within a live enclosure removing AIB (Asbestos Insulation Board) from the ceiling.
Asbestos operatives are inside the enclosure during the visit, performing the shadow vac technique to remove asbestos debris from inside the enclosure. This technique is a 'buddy' system, where one man removes the material and the second man follows with a H Type Vacuum to collect any dust and remaining debris in the air. These vacs are designed with a filter for asbestos fibres.
The operatives are supervised by a fully qualified Asbestos Supervisor from outside the enclosure, monitoring their progress and ensuring the site is working safely and as it should be. These operatives have full RPE (Respiratory Protective Equipment) including a full face mask, which they have been certified and face-fit for. This means that the seal around the mask is fully sealed and no asbestos fibres can enter the face piece. They are also wearing type 5/6 red overalls, meaning no asbestos fibres can penetrate the surface.
Incredible care is taken to ensure asbestos workers are fully protected from the inhalation of asbestos fibres, as it is highly dangerous to people's health.