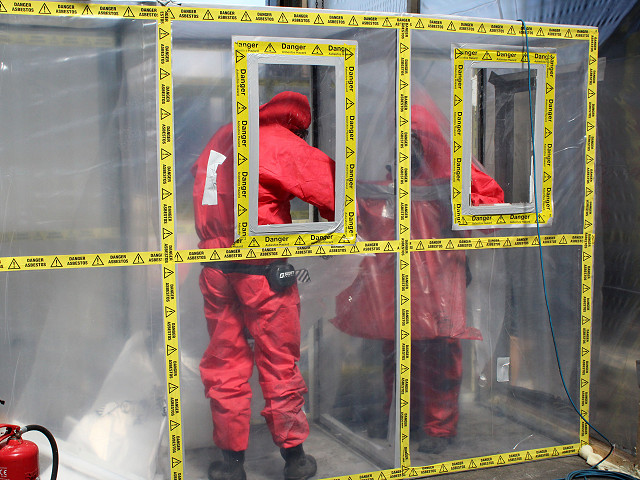 Have you found asbestos in your residential or business property?
Follow the 7 steps to asbestos removal
Get a survey done by an accredited company (UKAS accredited asbestos surveyor). Confirm quantity, location, type, and condition of asbestos with the survey
Get in touch with an HSE Licensed Asbestos Removal Contractor (LARC)
Send your survey copy over to the LARC who will provide you with a quotation
Proceed with the works, receive a site-specific method statement and risk assessment
Book in a suitable time for the asbestos removal to happen
The site team remove the asbestos, leaving your property safe and clean
You are issued a hazardous waste note to prove safe disposal of any asbestos materials and a clean air certificate
To understand the asbestos removal process in detail, the different stages are defined below.
Asbestos surveys
For any asbestos removal project you will need a survey carried out first. This will tell you the type, quantity, size, and condition of asbestos materials.
If there is a small quantity of asbestos that is clearly identifiable, you may be able to get a simple sample done to confirm.
Always give the surveyors a call and they can give you the best advice.
You can find a UKAS accredited asbestos surveyor here.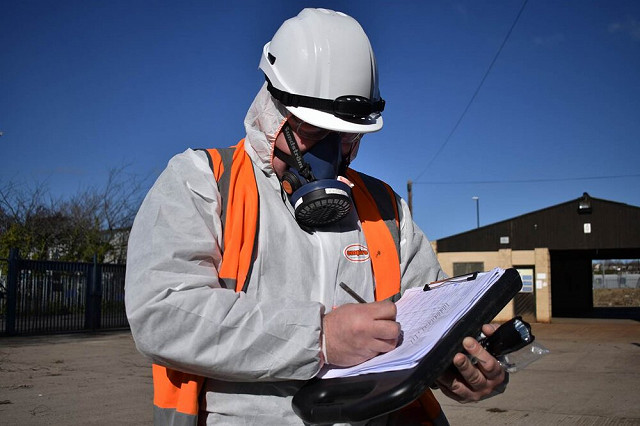 [image: Asbestos Audit]
Types of asbestos
There are different types of asbestos, all with their own qualities.
Asbestos has two sub-categories; Serpentine and Amphibole. They are defined by their difference in fibre qualities.
In the Serpentine category is Chrysotile (also known as white asbestos) with S-shaped fibres.
In the Amphibole category is; Crocidolite (blue asbestos), Amosite (brown asbestos), and also the lesser-known Anthophyllite, Tremolite, and Actinolite. These all have straight fibres. To learn about the history of asbestos, read this blog.
Depending on the type and quantity of asbestos will have a large impact on the removal process and ultimately the cost involved.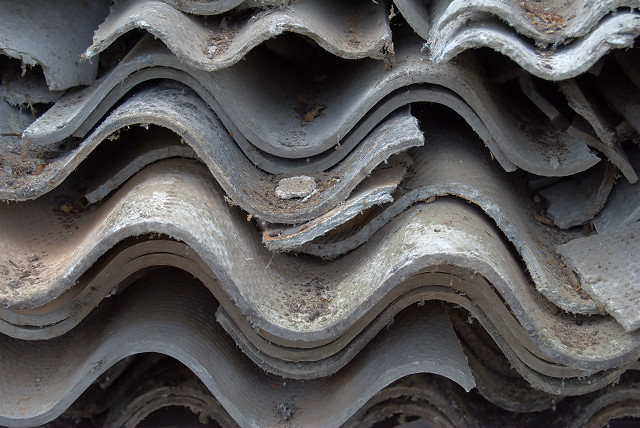 HSE Licensed Asbestos Removal Contractor (LARC)
If your asbestos type is Chrysotile, you may not need a license and this can be carefully removed by yourself. For any other type of asbestos, you need to have a license issued by the HSE.
To be safe, you are best to go with a fully-licensed company that will follow the best working practises and follow regulations.
E4 Environmental have a 3 year full license to remove asbestos.
You can check the status of a contractor by asking to see their license, or checking an asbestos specialist organisation such as ARCA.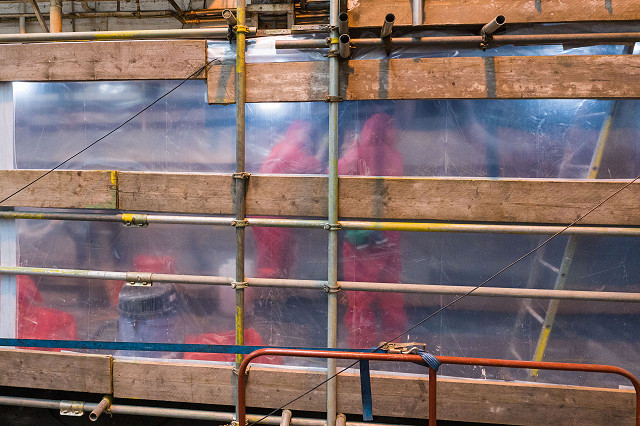 How much does asbestos removal cost?
It's often the most difficult question to answer until we see the size, location, and condition of the specific site in question.
In order for us to do our job correctly, we need the right equipment, materials, and PPE to protect ourselves.
The cost of all asbestos removal projects depends on many factors.
the type of asbestos material
how the asbestos is fixed to the walls/ceilings etc.
access requirements - is it at a high level or in a confined space?
on-site services - is there access to power outlets, welfare facilities, running water?
When we quote for a project, we take all of these things into consideration, including how long the job will take and the specific equipment needed. More about asbestos removal costs.
It also includes our admin planning time, as each asbestos removal job needs to be planned individually. Licensed works also need to be notified to the HSE and a site-specific plan of works and risk assessment done.
Method statements and risk assessments
Each asbestos removal project needs a site-specific method statement (or plan of works) and risk-assessments.
Asbestos contracts managers will visit the site to confirm all details of the removal project. They will then write up a method statement that outlines all of the specific processes and information needed for the site team.
The risk assessments are also incredibly important so that the site staff are aware of the potential risks associated with the work. The document explains how to reduce the risks as much as possible.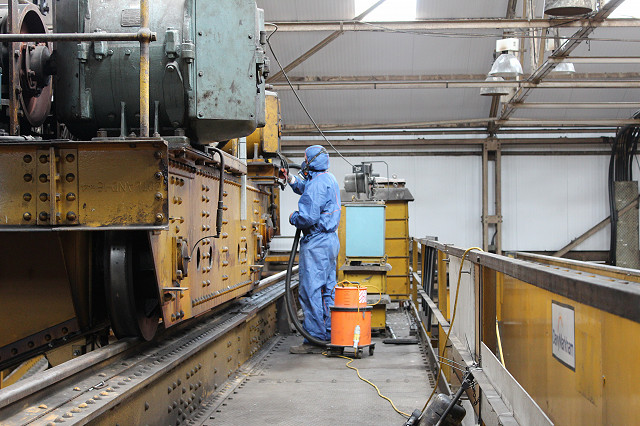 Booking in an asbestos removal project
Depending on the type of asbestos will determine whether it is a licensable or non-licensed project.
Read about Licensed vs Non-Licensed asbestos removal here.
When a licensed project, the HSE requires a notification to be submitted to them. This details everything about the proposed project and must be done at least 14 days prior to the start date.
This allows the HSE to regulate and control the removal procedures, with enough time to plan a visit if needed. For more information on this, head to the HSE website.
This notification time means that along with the 14 day notification period, our site visits and planning time needs to be taken into consideration. We can usually start a licensed project between 3-4 weeks after the initial visit and accepted quotation.
For non-licensed works, these can be carried out a lot sooner as there is often less planning involved and the project does not need notifying. These can sometimes be carried out the next day, or that week, depending on our schedule.
As always, get in touch and we can advise you on your specific situation.
Removing asbestos processes
There are lots of different processes to remove asbestos. Many of the licensed removal projects involve asbestos enclosures.
To find out more about asbestos enclosures and why they're needed, read this blog.
Common asbestos removal and management processes include –
floor tile lifting
ceiling tile removal
cement sheeting removal
wrap and cut method
encapsulation
All methods have their own risks associated, so our standard operating procedures detail the specific process being used.
Hazardous waste notes
When asbestos is taken away from a property, a hazardous waste note must be produced as proof of the correct disposal process.
To carry asbestos waste, you must be a registered waste carrier with a license from the environment agency.
This asbestos waste should be double-bagged in specialist asbestos hazard bags and taken to a nearby disposal site, or collected from a registered waste company.
These procedures are in place to avoid fly-tipped asbestos waste and contaminating general waste. The asbestos goes to a different landfill site than regular waste materials.
The waste consignment note must be filled out to prove these steps have been taken correctly and should be kept for your records.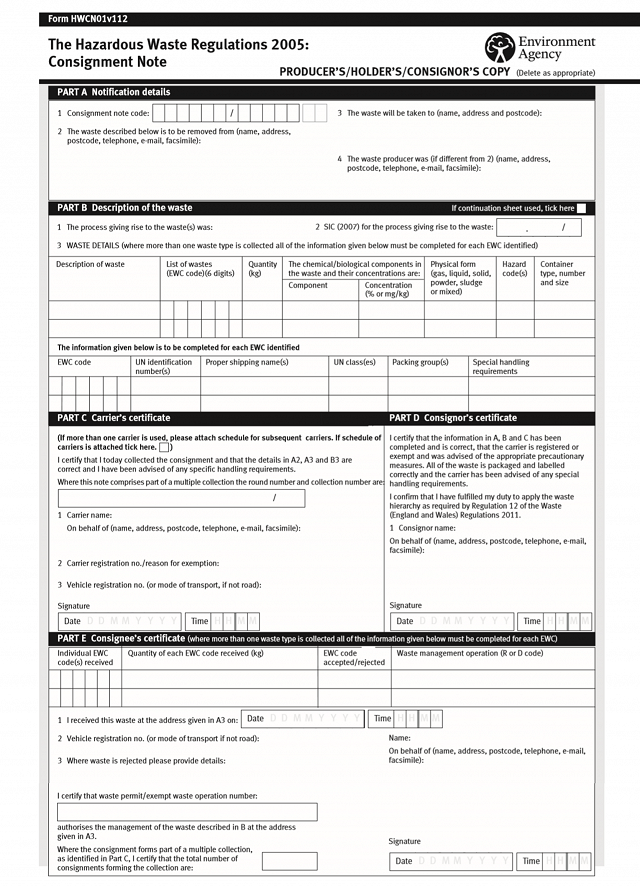 Summary of the asbestos removal process
So, that's the 7 steps of asbestos removal explained. There's not a one-size-fits-all approach for removing any asbestos, but the general process is the same.
Always contact a professional when you have any suspected asbestos in your property. Do not attempt to move it yourself, as it's very dangerous to your health!
E4 Environmental ltd are a fully licensed HSE asbestos removal contractor. Our main office is based in Sheffield but we carry out abatement jobs all over the UK.
Get in touch today if you have an asbestos removal project -
Call: 0114 245 4449 Email: info@e4ltd.co.uk